When I'm back in Singapore it can be easy to fall into old habits: sleeping in till late, staying out late, doing all of those things I used to do. On my recent trips, I'm trying to remind myself that I've been away for so long my parents aren't getting younger. My parents' daily routine starts with: picking a different hawker centre every morning to eat at. I try to join them, if I can wake up (they leave extremely early).
Bukit Merah View is one of my mum's favourites. It's relatively low key and quiet, but has some heavy hitters. More importantly, there's a wanton noodle stall there run by one of our distant relatives (my mother's cousin..?). It's very simple, but always tasty. It was even recommended in Michelin Bib.
The nice thing about a hawker centre is that it's usually attached to a wet and dry market. After a leisurely breakfast I was able to wander over to the other side to pick up some essentials: like the Feng He Yuan first extract dark soy sauce. None of the dark soy sauces I get in the US compare, and it is absolutely essential for some of the traditional Hokkien and Teochew dishes that I try to cook abroad.
While I don't relish waking up at 6 in the morning when I'm on vacation, food, and family is worth it: and in this part of the world, food and family is one and the same.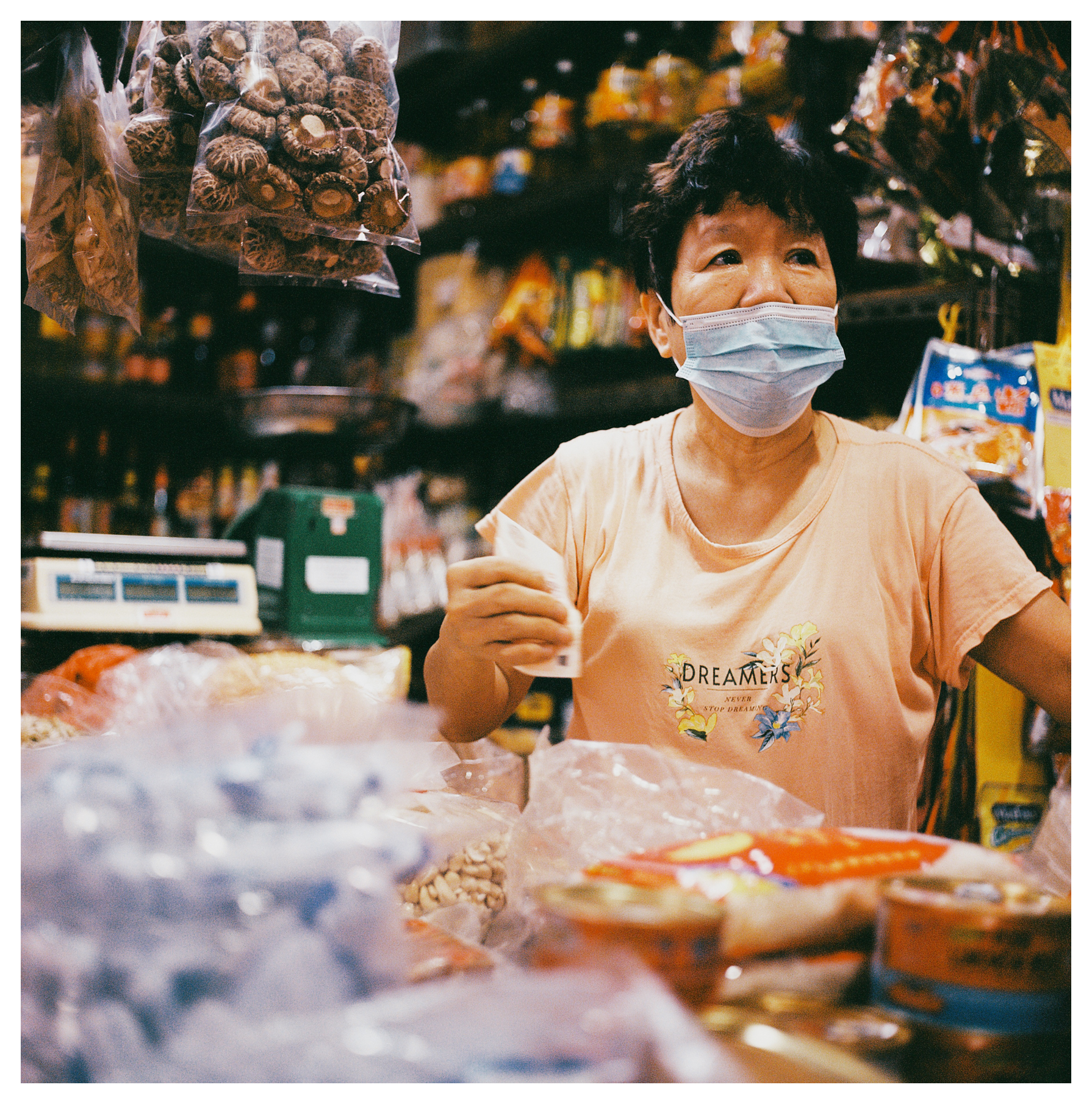 Purveyor of soy sauces, chilli pastes and dried goods in Bukit Merah View market.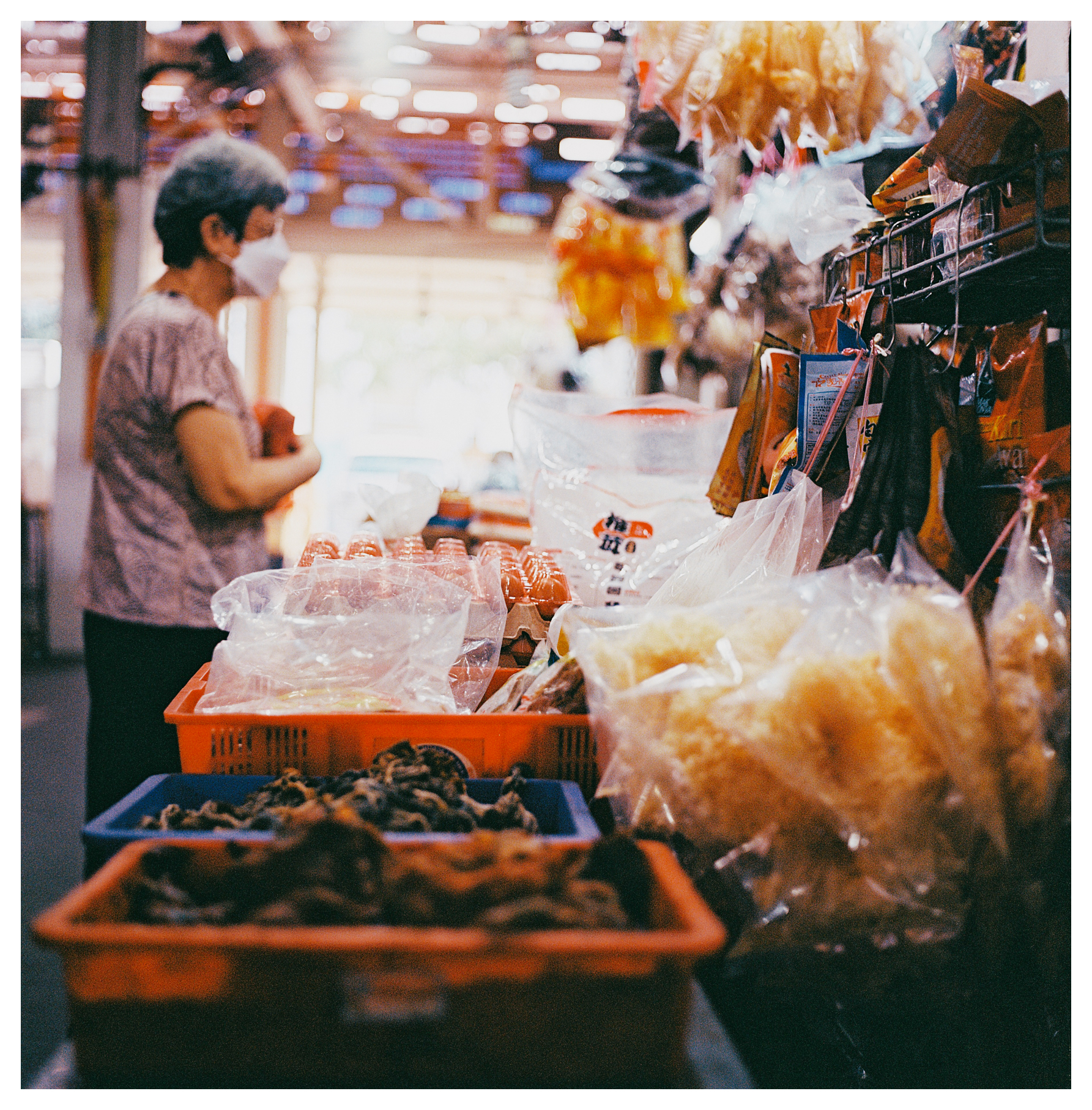 Carrying a retro TLR camera around my neck was fun. Many older people in Singapore looked at it, wide-eyed, and told me that they used to love their Seagull or Yashica cameras too.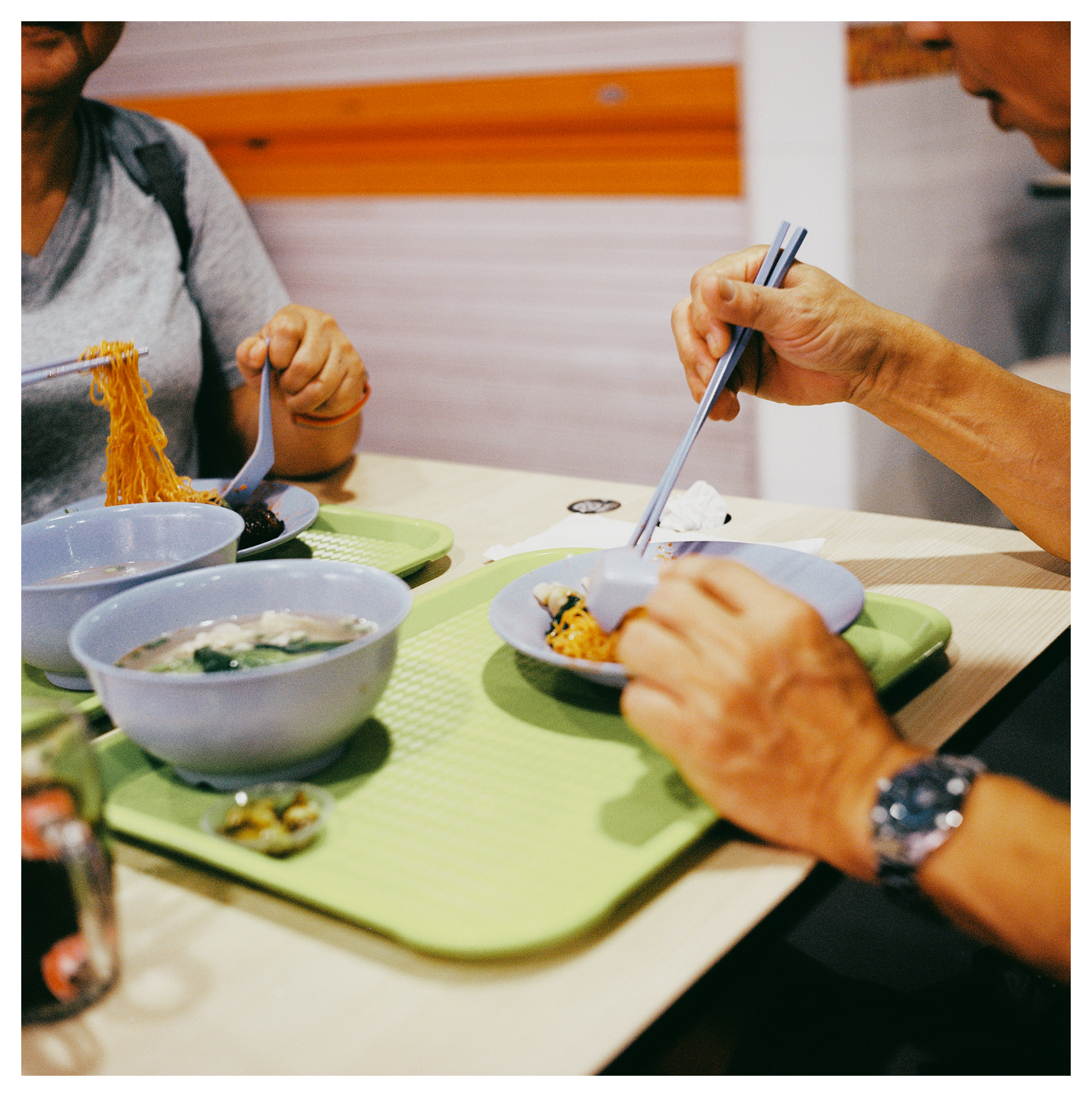 Breakfast with my parents.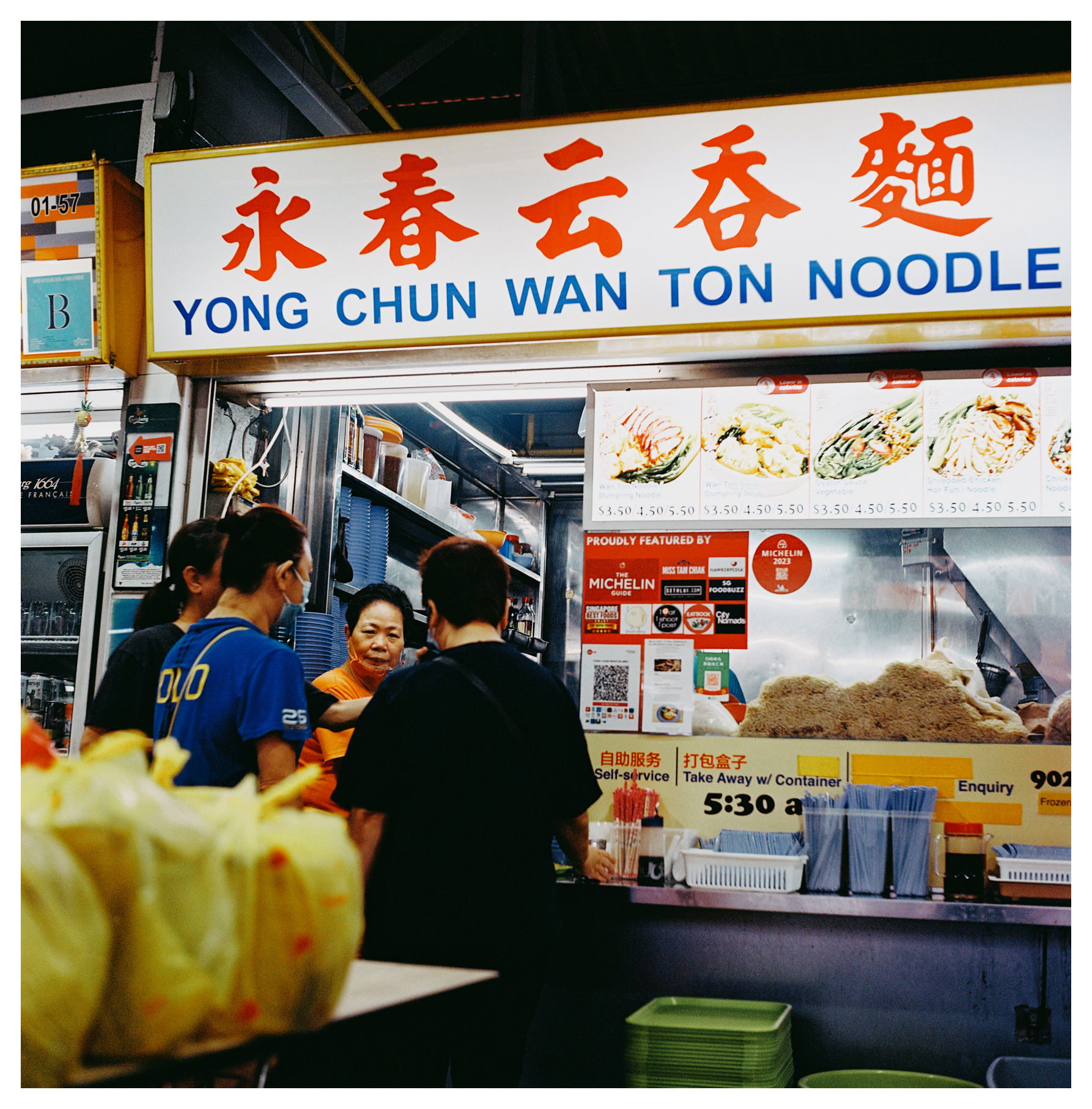 My distant relatives' simple, but very good, wanton noodles. If you're expecting KL style lardy savory wanton noodles, you will be disappointed: this is a basic Cantonese Singaporean style plain wanton noodles with bouncy noodles and good, basic ingredients.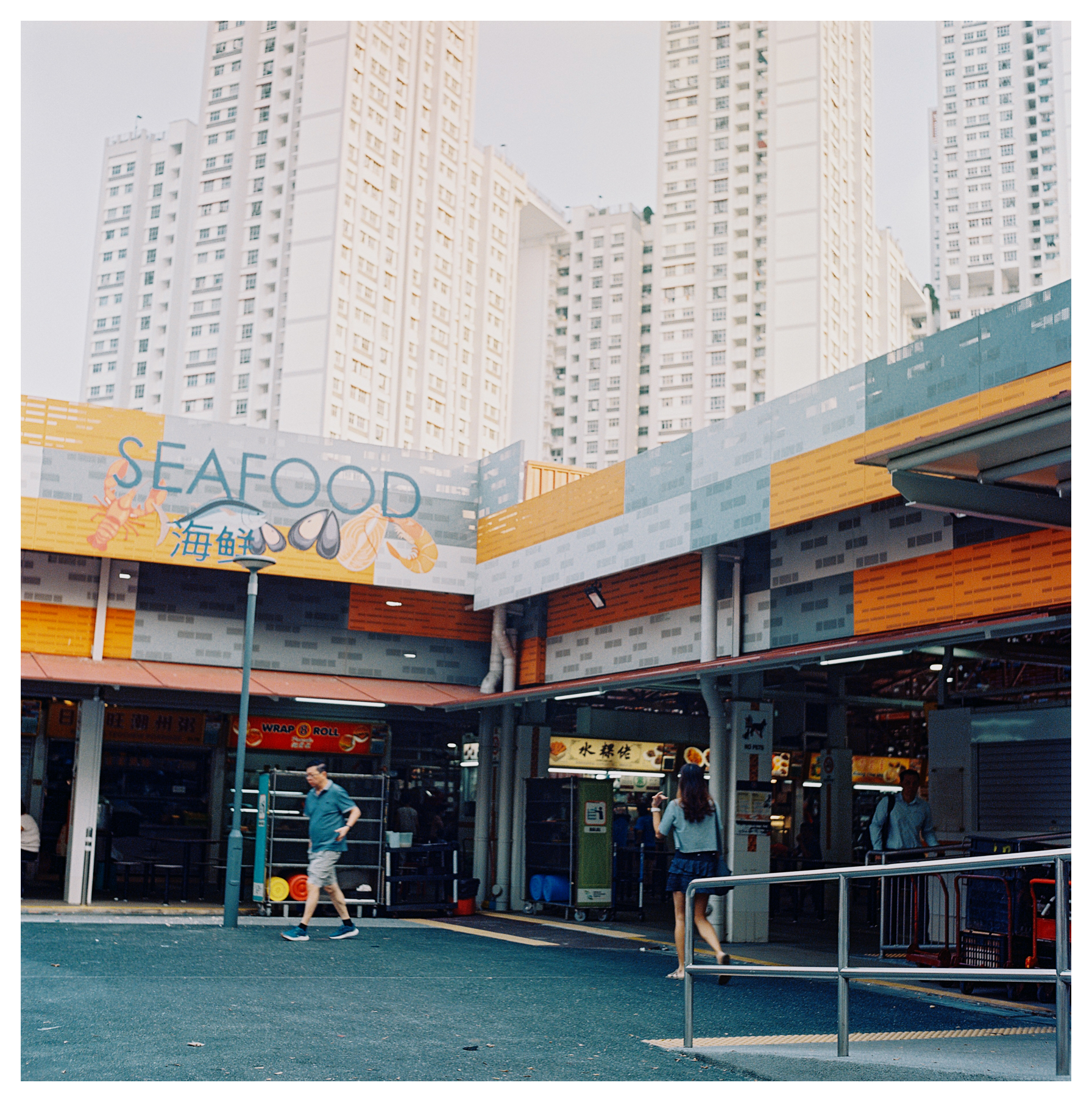 View of the wet market in Singapore with tall public housing behind it.
(All photos taken on Yashica Mat 124G, Portra 400, self-dev in Bellini C-41 kit, scanned on Fuji Frontier)